HC1-SHIM
Tripod tape adapter for HDR-HC1 and HVR-A1 camcorders
---
---
HC1-SHIM-MOD in the Web Store
Supports easy tape removal and replacement for Sony's HDV palm camcorders, HDR-HC1 and HVR-A1, when attached to small to medium sized tripods.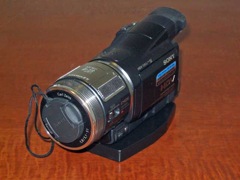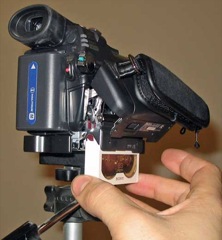 Click the images for a larger view.
Description
This is a camcorder tripod spacer adapter for the Sony's HDV palm camcorders, the HDR-HC1 and HVR-A1 camcorders that allow the safe removal of the tape from the camcorder while still mounted to a tripod. This camera will also work with the European HDR-HC1E, The Asian Pacific HDR-HC1P, Japanese HDR-HC1J and the International HDR-HC1K models, as well as the pro versions HVR-A1E, HVR-A1P, HVR-A1U.
One of the biggest drawbacks for this excellent camcorder is that the tape cannot be removed if it is mounted on a tripod without removing the camera from the tripod, that takes time and can affect pointing direction between tapes. This tripod adaptor overcomes that limitation. This part is easy to install and remove. Also, this adapter does not interfere with easy battery removal and insertion.
The part weighs about 5oz or 140g.
Compatibility
This adapter might not work with all tripods, but it should work with all tripods whose heads are less than 2.2" / 55mm from the mount screw to the right face (including pan arm) and whose mounting screw already fits the camera (1/4"-20 type thread). The adapter has adjustable side offset, with three threaded holes, and each point is compatible with tripod heads or accessories with an alignment pin.
How to measure for compatibility: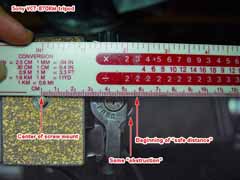 Click the image for a larger view.

Shown: measure for no extra removal steps. The 870 head is compatible if quick-released. The "safe distance" number needs to be 2.2" / 55mm or less for minimum hassle with the head, otherwise the distance from screw post to the right edge of the quick release plate needs to be less than 2.2" / 55mm.

This product is specifically designed for Sony's HDR-HC1 and HVR-A1 camcorders and it will probably not work for any other camcorder model or brand. If your camcorder is not an HDR-HC1 or HVR-A1, please do not buy this adapter, please look at the GEN-SHIM, HC1-PROT or the HC1-PROAT.

Known Compatible Products:
BeachTek DXA-2s, DXA-4, DXA-6, DXA-6vu
Bogen 3063 head with the hexagonal release plate
Davis & Sanford Provista tripod with the F18 fluid head
Pro Albinar PH-656Q head, only when used with a BeachTek audio adapter, use hole closest to tape door.
Sony VCT-870RM tripod
Spiderbrace 2
SunPak Video-Pro-M

Collection of this list just started. It is not exhaustive.

Known Incompatible Products:
Owners of these tripod and head products should consider at the HC1-PRO, HC1-PROT or HC1-PROAT adapters.

Heiwa TH-650
Libec TH-650
Steadicam Merlin

Compatible Products, But Requires An Extra Step:
These products are compatible but require an extra step by ejecting the tripod's quick release block before the tape can be changed. Consider this when chosing an adapter.

Bogen 3433, (Bogen number for Manfrotto 501), 503, 701RC2 head
Manfrotto 501, 503, 701RC2 head
Pro Albinar PH-656Q head

If you wish to report an error, add a clarification, or to add a tripod headr to this list, please click here to email a report.

Contents
This item includes an aluminum spacer block adapter that is powder coated black for durability, a small screw and simple mounting instructions. This part is designed to stay on the camera and makes a very stable base for setting on a desk, particularly for when transferring the video to a computer.

Shipping and Handling Costs for HC1-SHIM

USA:
First Class Mail: $3.95 for one, $5 for two.
Priority Mail: $6.10 for up to three.

Global:
Airmail Letter Post to Canada: Approximately $4-$5 USD
Airmail Letter Post: Approximately $8, may vary depending on destination.

---
Instructions:
Note for modem users: The instructions will take a while to download because I use large pictures for best print clarity.
For the HC1-SHIM Generic Camcorder Adapter 2.3MB download
---
For more info, email: sales@dm-accessories.com
Prices and specifications are subject to change without notice. Site text, images and product designs ©2005-2006 DeMaagd Accessories, all other brands and trademarks are property of their respective owners. Stated compatibility or incompatibilities should not be taken as endorsements of or by the companies or their products.
This web page was last updated 2008 Feb 25